Lost in Florence's Magical Office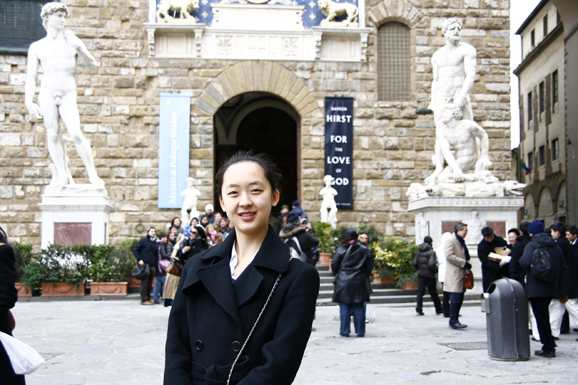 I'll admit—I'm a speed eater. On average, I eat at speeds of 60 to 65 miles per hour, sometimes over 600 mph when crossing large bodies of water. It's one of those habits you pick up when you spend five months a year on the road. Yet now that we're in Europe, I've found more time to thoroughly chew on my experiences. As I sit on the bus, munching on an apple, I amuse myself by trying to decipher the various road signs in foreign languages. As I walk to our theater, fresh from breakfast, I take deep breaths of the misty morning air apparently so characteristic of Tuscany this time of year.
Between our shows in Florence, we had a chance to explore the heart of the city. I filled up on cultural fare by visiting the Uffizi with a few friends. Uffizi means "office" in Italian, and this was the former workplace of the powerful Medici family before becoming one of Europe's most famous art galleries. They say a picture is worth a thousand words. Suffice it to say, if I wrote a thousand words for each masterpiece I saw, we'll never get to the end of this entry.
There is something indescribably beautiful in seeing a painting in person. Words and pictures can capture the features of a work, but never wholly encompass its size or soul. Many paintings in the Uffizi were enormous—easily towering over five feet. Yet despite their scale, no space was wasted. Like a scene on stage, each part of the picture had its place and purpose in telling the story of the subjects. I marveled at the artists' technical skills. Majestic triptychs, covered in gold leaf, filled a room with their sparkle like rare jewels. Giotto's expressive figures had faces that glowed with life even in the midst of expressing their grief. There was a Madonna by Raphael with skin so soft you wanted to touch it to see if it was real. Botticelli's The Birth of Venus and Spring were both so large they took up entire walls, forming an impressive sight.
I love fine art, and I must admit I prefer traditional realism to modern art because I can understand it better. Maybe that makes me old-fashioned, but I find uncovering Van Eyck's intricate symbols much more rewarding than untangling Pollock's chaotic splatters. In looking at a well-executed painting, I can feel an instant connection because the message is so clear, even if the subject matter is centuries old. I still vividly remember one of my favorites, though I can't recall the artist. It was a large rectangular work, commissioned by the Medici family and painted in glowing iridescent hues. In the top left corner, with her face half-turned to the viewer, was a little angel in a yellow dress. She had golden curls and golden wings, but best of all was her smile—as pure and sweet as a drop of golden honey.
Since my friends and I spent so much time at the art gallery, we almost ran out of time for lunch. Luckily, our order of thin-crust pizzas only took ten minutes to arrive, and I ingested another worthy specimen of Italian art in a leisurely fifteen minutes.

Jade Zhan
Contributing writer
07 de marzo de 2011